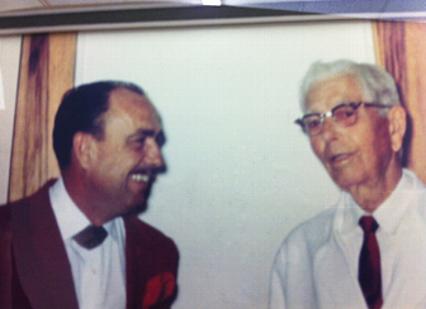 Dr. Robert Jones, L, Dr. Charles Bass, R in front of Dr. Bass' office at Tulane

The very beginning of POH



Robert G. Jones graduated from the University of Missouri, Kansas City dental school in 1949. After practicing for five or six years in Tulsa, Oklahoma, he was now proud to be known as "Doc" Jones. His practice had grown large, he had garnered respect in the community and had a nice house east of town. He was prosperous, with a successful practice and a new home for his growing family. By all rights he should have been happy.

It very slowly dawned on Dr. Jones that what he was doing day in and day out was not what he expected when he enrolled in dental school on the G.I. Bill after World War II. He was deeply disappointed with the dental office routine of drilling, filling and billing. Dr. Jones was continually trying to learn new things to help his patients, maybe even prevent the pain and suffering he witnessed daily.

Dental school had taught him that more or less, cavities happened for any number of reasons, and teeth fell out because you got old. Dr. Jones realized he was more of a fancy jeweler than a man of science and medicine. Gold fillings, gold crowns, gold bridges and finally expensive dentures. This made him feel like he had failed as a dentist.

On a trip to the University of Houston dental school to take a course in periodontology, the professor there, Sumter Arnim, told Dr. Jones about Charles C. Bass, M.D., the retired Dean of the Tulane University College of Medicine in New Orleans. Dr. Bass was telling anybody and everybody who would listen that he had discovered the true cause of caries, and it was linked to periodontal disease. Being a microbiologist, Dr. Bass approached the problem differently than the field of dentistry had done for decades. He saw the evidence in a different way.

Dr. Bass' theory, in part, was that large numbers of all types of bacteria lived in the mouth, this flora and fauna being a normal part of our world. Unless organized into biofilm of complex nature and fed refined fermentable carbohydrates, they do us no harm. When those refined carbohydrates became a large part of the human diet, those bacteria thrived and grew in larger numbers than before. To handle all the new members of this growing little organized world, the bacterial colony would bring in nutrients, and pump out the waste generated. If left undisturbed for long enough, the colony thrives. The waste of the colony attacks the enamel of the tooth to produce caries, and after enough time, periodontal infection sets in and destroys the periodontal ligaments causing the teeth to fall out.

Dr. Bass discovered that it takes roughly twenty four hours for this type of oral bacterial colony to organize. His evidence indicated that if re-organization could be disrupted, perhaps tooth decay and gum disease could be entirely prevented.

Dr. Bass examined all the toothbrushes and dental floss then available to the public. With his knowledge of the disease process, and how it works to make a cavity, none of the toothbrushes or floss did what Bass referred to as "disrupting and disorganizing" the bacterial colony. He had to develop the specifications and determine what is the best, most effective design for both toothbrush and floss. These designs are POH's production specifications.

Nylon seemed best for floss, it was new, and silk was in short supply because of WWII. Dr. Bass learned all he could about nylon and tried to fit the nylon to the bacterial challenge. The thinnest nylon, gathered in multiple strands and gently twisted seemed to work best.

Looking at toothbrushes under his microscope, Dr. Bass was surprised to see that the bristles were sharp, rough and jagged. He even went so far as to do an experiment. He brushed the teeth of canine subjects using the toothbrushes of the day. Capturing the detritus and then doing a cell assay, he found not only torn cells from the oral mucosa of the dogs and blood, but various and sundry bacteria. Dr. Bass knew that to do any good, a toothbrush first should not do any harm. Carefully polishing the tips of the bristles solved the problem. Our toothbrushes are carefully end rounded. Not in a point which can actually tattoo the gingiva. Dr. Bass did a whole study on this aspect.

Dr. Bass did more experiments and looked through his microscope. He decided that nylon bristles seven thousandths of an inch in diameter gave the best results. This made the bristles very soft, compared to the hard bristles that dentists were advocating at the time. Some still do. The length of the handle, its mass and weight were optimized for the purpose of personal oral hygiene. If the handle is too long, then too much leverage is too easily imparted. Too bulky or massive a handle and the delicate manipulation and direction with intent required by the Bass method is impaired.

Dr. Bass insisted that anyone who wanted to learn his theories and methods required three weeks with him in the lab at Tulane to fully understand the subject. Dr. Jones took the time off from his practice. After seeing the evidence right in front of him. Dr. Jones asked Dr. Bass for some toothbrushes and floss to try with his patients back in Tulsa. Soon, the demand exceeded the supply.

Oral Health Products, Inc. had its beginning then and there.

Today, Charles Bass, M.D., is rightly considered the father of personal oral hygiene.

The toothbrushes and dental floss he specified are produced by
Oral Health Products, Inc., in Tulsa, Oklahoma, USA.


Only For Dental Offices, Call POH Today For Samples. 800-331-4645.
Here is a link to an early lecture Dr. Jones gave in 1960.

CLiCK





Do you believe you can trust testimonials? Good.
We have a quite a few. Like:

Dr. Patricia H, Atlanta: "Fell in love with this floss at a CE given by a periodontist".

Regina B., RDH, Dunedin FL: "I was first introduced to POH floss at the dental school for hygiene that I was attending back in 1976. I have been using for myself and recommending your POH floss to all of my many patients, hundreds of patients ever since!! Love Your Floss!!"

POH has been collecting patient comments since 2007. Here is a link to March 2014 patient's giving their "POH Story" They make for a fun read. Here is a link to POH patients & clinicians telling it like it is.
CLiCK
All rights reserved. Oral Health Products, Inc. © 2023